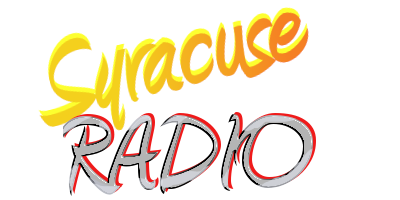 The Syracuse Radio Reunion

August 3, 2019 Press Room Pub Syracuse, NY
Hey! You Guys Don't Look Anything Like You Sound
---
All radio roads pass through Syracuse. Lee Goodman and Mike Frazer, Founding Fathers of "The Syracuse Radio Reunion" celebrate the success of their 1st effort held at the Syracuse Press Room Pub on August 3rd, 2019
Tony Oscar Davis, Rod Wood, Dean of Syracuse TV Anchors and Rick Yacobush, VP and GM Head of Syracuse IHeart Radio Operations pause for a photo. Tony, a former longtime Philadelphia radio personality who grew up in Syracuse, and spent some of his early years at WOLF. Rod has now been a respected on-air broadcaster for 50 years, most of which has been in Syracuse. Rick has been a radio fixture in Syracuse since the late 70s. First as Rick Charles, night-time personality at WOLF and climbing to the pinnacle of Syracuse's iHeart cluster....
Cindy Thomason Smith, former ace 62 WHEN promotion director joins David Shea, who at one time early in his career was an account executive with WFBL , Maryanne McLaren, former Hot Hits 14FBL air personality Todd "Parker" McLaren and Mrs. David Shea get together for a smile fest at the Syracuse Radio Reunion on August 3, 2019.
And their mothers said they'd never amount to anything! HAH! BTRPs (Big Time Radio Personalities - All With Syracuse Broadcast Roots) - Los Angeles, Philadelphia, Detroit, Pittsburgh All Represented Here - l/r Bob Brown - Tony Oscar Davis - Todd (Parker) McLaren - Mike Frazer - All marvel that a big Budweiser brewery is just minutes away. Whew! No chance of running out of beer at this party.
Former 62 WHEN'ers Jay Flannery and Mike Frazer in a heated discussion. Each claiming to be the master of kibbitzing and time wasting. Look for that kibbitz grudge match between these two at the next Syracuse Radio Reunion. Here's hoping it isn't so far in the distant future these two don't even recognize one another.
Yes, Virginia, these ARE the men your mother warned you about. If they could, they'd sell ice cubes to the eskimos. They are super salesmen Rick Yacobush, Carl Fiorini, and Frank DiGoia and they were a few of the guys responsible for helping pay our salaries. We thank you gentlemen.
A pair of broadcast legends meet at the 2019 Syracuse Radio Reunion. Jack Mindy, former 62 WHEN and WFBL funny man of the 1970s and longtime Newschannel 9 - WSYR-TV anchor Rod Wood talk the good old days.
Syracuse Broadcast Mogul and Boy Wonder Craig Fox enjoys some chilled grog as Al Bishop, demonstrates how he's developed a system of telekinetic communication where two people can have a great conversation and never move their lips. Amazing! Al, in the late 70s starred at WFBL's Fire14 as Jack Lee before moving on to the Detroit Hot Hits station as Craig Novak. Today Al is President and owner of the Finger Lakes Radio Group.
Syracuse radio personalities, Dave Mann, former 62 WHEN morning man and Jack Mindy, former 62 WHEN radio and WFBL star, catch up after many moons. Rona, ever the great copywriter, intently listens thinking, "These guys definitely need better copy. Hmm..I wonder?"
"The Dean" of Syracuse TV Anchors, NewsChannel 9's Rod Wood (c) attempts to show a couple TV neophytes how it's done. Radio personality Tony Oscar Davis (l) and IHeart Syracuse VP, Rick Yacobush, while somewhat confused, are catching on quickly and say they really like it when that guy over there says, "Look over here...right at the birdie." Smile boys! You're on! Gooood!
---
Site courtesy of...
Class A Communications
Copyright ©2022 Class A Communications - All Rights Reserved